Everybody has an uncle or a distant relative that has an under educated armchair opinion on how the All Blacks could improve or how the Warriors could win the NRL, Sitting there listening to your relative giving his thoughts on what coach/player/assistant should get the sack or who should be getting paid less or more is a tradition in any sport crazy family, these outlandish attempts at the armchair general managers position can all now be executed (well at least in a football sense) with Football Manager 2012.
As a first time Football Manager player ( or FM player as the hardcore call it) I found myself drowning in a pool of statistics and graphical analysis of things I knew absolutely nothing about, Luckily the very in-depth and comprehensive tutorial was amazingly helpful in terms of understanding basics of the game, holding my hand through the intricacies of the email system, match system and team management I felt rather confident that I too could one day be knighted by the queen for trading my old run down players for exciting new players and make millions. The layout of the game is very smooth and crisp and provided easy to follow interface and everything was at my fingertips it is set up in a familiar windows desktop format with loads of options to customise.
My dreams came to a crashing halt when the reality of how huge this game is finally took effect, the game is the definition of a true Simulation Role Playing Sport game. Everything is covered in this game from how you answer the media in the press conferences including throwing players in to the fire for lacklustre play, all the way down to contract extensions and dealing with the players money hungry agent demands, this game has it all. Your role at first is to take on any team in the world in over 24 different leagues and then they are at your mercy. Building a successful franchise or a dumpster dwelling wooden spoon team is all on the decisions you make and how you interact and set your players up to be successful. Football Manager is in its 7th year of production and the improvement and adaption of new features is evident in how deep this game actually is. A favourite part of the game for me was pregame, postgame prep talks, in this feature you could choose from a number of reactions to the entire team or just a few players, they ranged from inflating his ego to Dogging him, different players react differently to criticism and before long I had David Beckham removing me from his Christmas card list (not like I care or anything).
When all the blah blah paper work is out of the way and its time for what the game is actually about Football. The 3D Match view is not exactly FIFA 2012 graphically ( not even close to FIFA 2000) but that's not exactly what players of Football manager would purchase the game for. The streamlined effect of changing defences or setting up a corner kick tactical maneuver is smooth and doesn't require a huge amount of effort, the animations of players are average and even telling the difference between teams can be difficult. Having an array of camera angles to choose from, some up close view clearly showed the cardboard cut out of the crowd and goal keepers. I switched to the 2D view after a few matches as it was easier on the eyes and I could see my formations clearly.
The changes you make to your on the field team were also as easy or as hard as you liked to make it, giving rookie managers options of Aggressive, passive and defensive kept things simple for such a complex game but all of these categories can be changed and altered to keep the hard-core football hooligan happy.
Another aspect to assist new players to the series is the ability to delegate responsibilities to your staff, if you just want to trade and pimp out players for more money and not deal with the on the field responsibility it is dealt to with a click of the mouse, Almost every element of the game can be dealt to by the CPU if you just want to sit back and see what will happen but really where is the fun in that.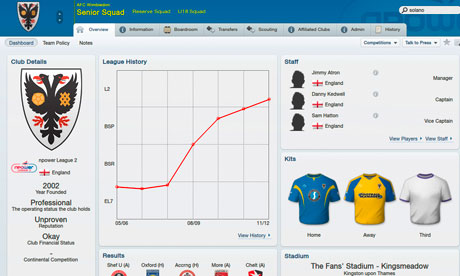 Playing this on PC, I noticed myself becoming more and more annoyed at the soundtrack ( or lack thereof) seemed that a generic "The Sims" type instrumental was stuck on repeat for the entire game and I could not take it and blasted something less elevator-esque.
As my first true Football manager experience, it seemed as if I had so much information and statistics thrown at my face but with a few hours biting in to this humungous game, it is overwhelming at first but the more you play it the more fun it becomes. If you are one of the armchair critics or just think you could bring Christiano Rolando to play for the Phoenix then this is the game for you.